24/7 Emergency Storm Damage Tree Removal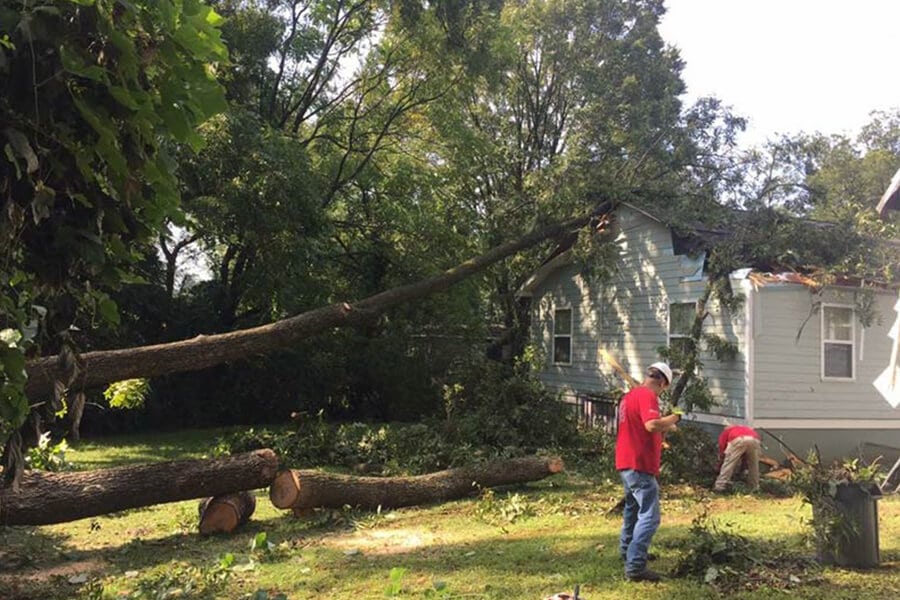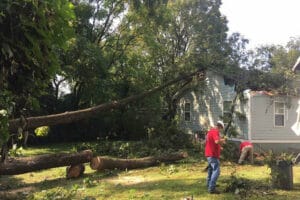 Our team at King Tree Experts is here to help you with emergency tree cleanup services after large storms. Homeowners in our service area of Atlanta and the surrounding area can trust our tree removal experts for help when they need it most. In the event that a strong storm causes your trees to become damaged you will need a tree removal expert to handle the cleanup. The damage may have harmed your home, fences, buildings, powerlines, or even other trees on your property. Our crew is can quickly and efficiently removed any damaged or fallen trees and limbs from your property.
Storm Damage Safety & Preparation
We advise all of our customers to not attempt to remove downed trees and damaged limbs themselves. Let our tree service experts inspect the damage and give you an estimate for our emergency storm damage cleanup. Any tree that becomes damaged during a storm can potentially create a hazardous situation on your property. Whether there are limbs that have fallen or died or the tree has fallen on the house our experts have the experience needed to properly remove trees.
Being prepared is part of the job when removing any damaged trees or limbs. Taking into account the damage to the structure or any powerlines in the area that may have been damaged as a result. In addition to this having damaged limbs trimmed and removed from the tree is an important part of preventing damage from occurring on your property.
Fixing Your Property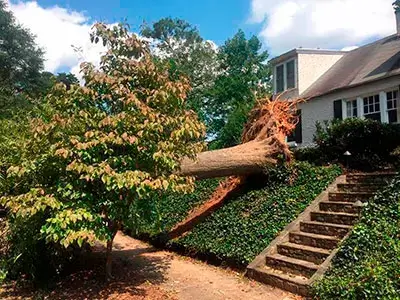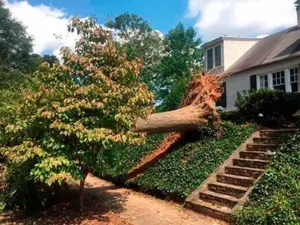 Our team at King Tree Experts works directly with your insurance agency in the event of property damage to provide everything they need in a line-itemized list so your claim can be processed quickly. Our team has experience removing fallen trees from buildings, homes, and other areas on any property.
Contact Us For Emergency Storm Damage Tree Cleanup
If you are in need of emergency tree removal services please call us to schedule an appointment for one of our experts to come assess the fallen debris. If your cleanup situation is not in urgent need of services please contact our experts online via our contact form.
I hired these guys to remove a huge 30″ diameter pine tree that had been struck by lightening. When their bid came in so much lower than any of the other outfits I got bids from, I was a little …
After storm came through, we needed a huge tree removed from back of our fence and across a deep creek. Called several tree removal companies. Most didn't return call or come out for schedueld …
They did an excellent job. They were very friendly and very helpful. My neighbor asked for a piece of the tree so he could use it as firewood and they brought it up to his house for free! This is …
Our team at King Tree Expets is proud to provide our tree services to home and property owners in Atlanta, Brookhaven, College Park, Decatur, East Point, Fayetteville, Hapeville, Jonesboro, Lake City, Palmetto, Peachtree City, Riverdale, Stone Mountain, Tucker, Union City, and the surrounding areas. Take a look at our service area map to see if we can help you by providing you with our expert tree services. Additionally you can click the button below to look at our service area page and a full list of cities we serve.