Tree Removal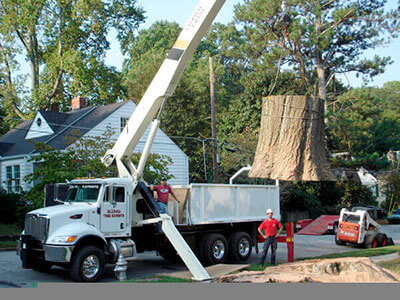 Our tree removal experts at King Tree Experts provide tree removal services for both residential and commercial properties in Atlanta and the surrounding area. We provide the solution to proper tree care and maintenance which includes the removal of trees to prevent damage to homes and commercial properties, promote the healthy growth of other trees, or to protect the rest of your property from common plant-specific diseases. Our team also provides stump removal for trees that have already been removed from your property. Our team prides ourselves on creating a safe environment by protecting your property from hazardous trees.
Create a Safe Space
Tree removal is one of the most common services our experts provide to customers in Atlanta and the surrounding area. Our technicians aim to protect your property from hazardous trees. There are a number of diseases which can affect trees and a few specifically attack the limbs and joints which can cause limbs to become unstable and break from the tree. If the tree is unsavable our team recommends that it be immediately removed to prevent damage to people, housing, or buildings. Some trees can become malnourished which causes deadwood, where trees are not receiving the proper nutrition to sustain life. Deadwood is dangerous because limbs and even sometimes entire trees can fall randomly without warning.
How to Identify Damaged Trees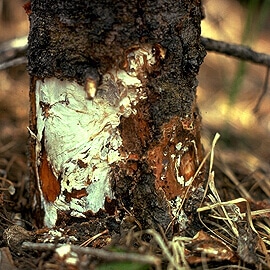 Some of the most common questions we receive when removing trees are: Why does it need to be removed? How will you know if it's necessary to remove a tree? How can I identify a damaged or diseased tree? These are all questions to be answered by our experts at King Tree Experts who have years of experience identifying damaged trees. However, there are some common symptoms that you can look for yourself, such as:
The bark looks dark gray or blue in color
The tips of the limbs easily bend or snap off in strong winds
There is fungus growing on the trunk or leaves
There are missing limbs or large sections of missing foliage
The Leaves do not grow back during the growing season.
Finding the Best Contractor
Many tree removal companies are not equipped to handle larger projects. It is important that when you have much larger trees that need to be removed that you find a company that can properly dispose of large trees. This includes having all of the proper equipment and tools to handle climbing, removing large limbs, and stump removal. King Tree Experts is one of the few tree service companies serving Atlanta and the surrounding areas that is equipped to handle larger projects. Feel free to contact our tree removal experts to set up an appointment for us to come out and evaluate the tree.
We had a giant dead tree (maybe 60 feet high) with lots of limbs. It was about 4 feet from our fence. The crew came out and took the tree down without a scratch to the fence. It was amazing to …
They were courteous, showed up when promised (which I CANNOT say for other services) and did a great job with the branch removal and tree trimming we needed. They left our yard virtually spotless. …
Best quote – others were double. Clean up was excellent – no mess. Yard looks great. Highly Recommend.
Our team at King Tree Expets is proud to provide our tree services to home and property owners in Atlanta, Brookhaven, College Park, Decatur, East Point, Fayetteville, Hapeville, Jonesboro, Lake City, Palmetto, Peachtree City, Riverdale, Stone Mountain, Tucker, Union City, and the surrounding areas. Take a look at our service area map to see if we can help you by providing you with our expert tree services. Additionally you can click the button below to look at our service area page and a full list of cities we serve.