Underbrush Removal & Mulching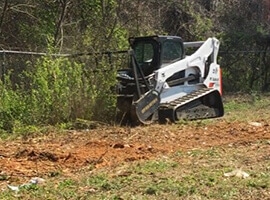 Our team at King Tree Experts offers underbrush removal and underbrush mulching services for home and property owners in the metro Atlanta area. Removing underbrush is an important part of maintaining healthy trees. Too much underbrush can cause trees to become malnourished by sucking up all of the water and nutrients that trees need to grow. In addition to this mulching, allows your trees to get much-needed nutrients from the plants and underbrush that was suffocating your trees. We have years of experience assessing the cause of unhealthy trees and will take the steps necessary to ensure that your trees remain healthy and strong.
Why Underbrush Kills Trees
In order to maintain healthy growth trees need a constant supply of water and nutrients, which it receives from the soil surrounding the roots. If you have large amounts of underbrush growing around your trees then the nutrient and water levels in the soil will fail to maintain proper levels for your trees to grow healthily. Our team always recommends trusting a team of professionals to remove underbrush as improper removal can cause damage to the roots of the tree.
How Does Mulching Help Tree Growth
By mulching your underbrush you are providing your trees with an organic barrier against weeds, insects, and much more. Mulching helps to enrich the soil that the trees are growing in with much-needed nutrients when they decompose. Our team can provide mulching services for your yard in as little as a day. Trust our experts to keep your trees healthy.
Contact A Reliable Underbrush Removal Contractor
Our team has years of experience removing underbrush to promote the healthy growth of trees. Proper underbrush removal takes time and attention to detail to prevent the plants from sprouting underneath your tree again. Our team is available to help you assess whether you are in need of our underbrush removal services. Contact us by phone or via our online contact form for more information.
Our team at King Tree Expets is proud to provide our tree services to home and property owners in Atlanta, Brookhaven, College Park, Decatur, East Point, Fayetteville, Hapeville, Jonesboro, Lake City, Palmetto, Peachtree City, Riverdale, Stone Mountain, Tucker, Union City, and the surrounding areas. Take a look at our service area map to see if we can help you by providing you with our expert tree services. Additionally you can click the button below to look at our service area page and a full list of cities we serve.