Stump Grinding & Stump Removal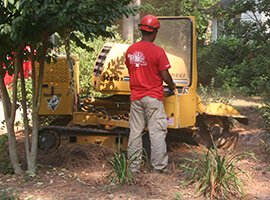 If you have had a tree fall or have had a tree recently removed from your property often times there is a stump left behind. Our expert stump removal service team are trained to remove all remnants of stumps from your property. We leave no traces of the tree by removing exposed roots and grinding the trunk to below ground level. With years of experience and advanced equipment, your stump removal can be finished in as little as one day.
Stump Grinding Vs. Stump Pulling
There are generally two accepted methods for the removal of stumps depending on the situation. Typically our team uses a stump grinder to turn the trunk into wood chips. This is the method that we recommend when removing stumps because it is more economical, cost-effective, and less time-consuming. However, in some scenarios, a stubborn stump must be "pulled" out of the ground. Typically this method entails removing the entire stump and root ball at the same time. This method can sometimes be unsafe as the machinery and technique needed to remove the stump this way poses more risks.
What is Stump Grinding?
When it comes to stump removal, stump grinding is the primary and preferred method for stump removal. It uses a heavy machine to grind the stump into tiny pieces until there is nothing left sitting above the soil line. Our team is trained to ensure that the stump is ground down as far as possible to ensure that the root ball is damaged enough to prevent future growth.
Why You Should Trust A Professional
Stump removal to many homeowners seems like a simple process. You could try and find a stump grinder and dispose of the stump yourself. However, this can be unsafe and without experience can take a long time. In addition to this, some homeowners attempt to "pull" the stump out of the ground themselves. This can sometimes lead to serious damage both to the parties involved and their property.
Stump removal and stump grinding should be left to trained professionals. Failure to know how to properly operate the machinery or how to properly "pull" a stump can be hazardous.
Contact our Stump Removal Experts Today
Our stump removal team is available to help you with any stump that you need to be removed. Our team has years of experience operating heavy machinery can usually completely remove a stump in as little as a day. Contact us online or by phone to set up an appointment for one of our experts to evaluate your stump for removal today.
Five stars are not enough to rate my experience with King Tree Experts, Inc. They are indeed experts at what they do. From obtaining an initial quote to having to scale back the amount of trees I …
Unbelievable service. I had 6 extremely tall trees taken down, including stump grinding in about 1.5 hours. Excellent price, and professional service. Our neighbor was so impressed she hired them on …
Just had King remove 8 30+ foot tree's from a side yard in less than 2 hours. The price was more half what everyone else wanted and service was fantastic. Will not hesitate to call again the next …
Our team at King Tree Expets is proud to provide our tree services to home and property owners in Atlanta, Brookhaven, College Park, Decatur, East Point, Fayetteville, Hapeville, Jonesboro, Lake City, Palmetto, Peachtree City, Riverdale, Stone Mountain, Tucker, Union City, and the surrounding areas. Take a look at our service area map to see if we can help you by providing you with our expert tree services. Additionally you can click the button below to look at our service area page and a full list of cities we serve.