Tree Trimming and Pruning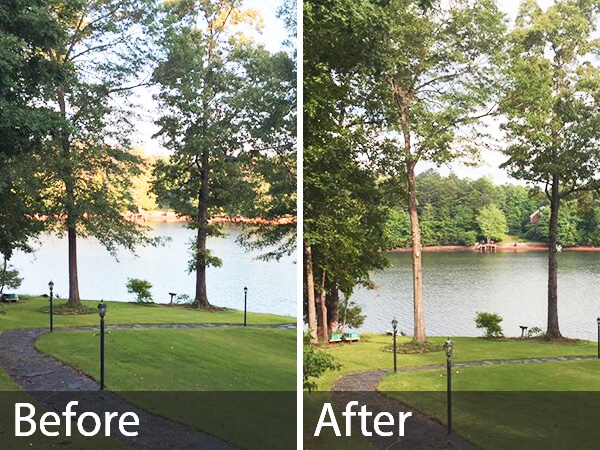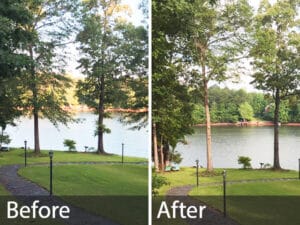 Our team at King Tree Experts sets the standard for tree pruning and trimming services in Atlanta, GA, and the surrounding area. Homeowners trust our team to properly maintain and trim trees that are encroaching on powerlines, overgrown, or have dead limbs and branches. Our goal is to take care of every tree the correct way and to provide homeowners with a tree trimming service that they can afford.
Proper Tree Maintenance
Most trees at some point during their lifespan need some maintenance and upkeep to keep them both safe and healthy. Our team does this by providing tree trimming and pruning services for both residential and commercial property owners in our service area. Our experts have years of experience trimming trees and can easily identify when a limb needs to be removed to keep the tree healthy. Our team uses several methods for trimming and pruning, such as crown cleaning, thinning, elevating, and deadwood removal.
Crown Cleaning
Crown cleaning is used by tree trimming experts all over the country to remove both dead wood and diseased limbs. The process focuses on the crown of the tree and keeps the branches healthy and balanced. Our company is committed to providing proper care and revitalizing trees. Keeping your tree properly maintained helps preserve the lifespan of the trees.
Thinning
Our team uses thinning as a maintenance method when your tree may not be growing properly and has limbs that are constantly rubbing together. Thinning is a type of tree trimming service that helps stop the cluttering of branches for healthy growth and visual appeal. Our tree experts are experienced in treating limbs to provide optimal growth and longevity.
Elevation
Elevating a tree is the process where our experts remove low lying limbs during a tree trimming job. This method is used if you have limbs that hang low over sidewalks or pathways and if you have branches that are too close to a building. Our experts assess the amount of over-hang that is occurring in unwanted areas and begins removing branches fix this issue.
Dead Wood Removal
Dead wood removal is a simple process and can usually prevent the need to remove the whole tree. This tree trimming method is used to remove any dead wood in the tree that is preventing the healthy growth of the tree. Often whole limbs can become damaged and may randomly fall out of the tree, potentially causing harm to anyone on your property.
Promoting Tree Health With Proper Tree Care
Our company aims to promote the healthy growth of trees on any property in Atlanta, GA, and the surrounding areas. We consider tree health to be an important aspect of every job we complete. If you think that any trees on your property are in need of our expert tree trimming and pruning services then contact our experts today to set up an appointment to assess your trees.
These days it's EXTREMELY hard to make me a satisfied customer. I just had the BEST experience I've had in years. Had 4 trees trimmed by King Tree Experts. They arrived early, what I thought …
This is a family owned buisness and the service is they provide is second to none. My wife and I were very impressed with thier professionalism and especially how neat and clen the job site was left. …
They did an excellent job. They were very friendly and very helpful. My neighbor asked for a piece of the tree so he could use it as firewood and they brought it up to his house for free! This is …
Our team at King Tree Expets is proud to provide our tree services to home and property owners in Atlanta, Brookhaven, College Park, Decatur, East Point, Fayetteville, Hapeville, Jonesboro, Lake City, Palmetto, Peachtree City, Riverdale, Stone Mountain, Tucker, Union City, and the surrounding areas. Take a look at our service area map to see if we can help you by providing you with our expert tree services. Additionally you can click the button below to look at our service area page and a full list of cities we serve.